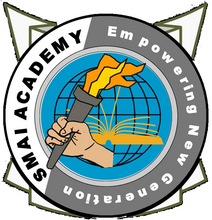 SMAI ACADEMY
The word "SMAI" is taken from the local dialect meaning "Covenant". 
The torch, book, and globe speaks of our belief that education is like 
a light that will lead students to their blessed destinations.
Vision: Our vision is to use school as a tool to build, shape and empower the emerging generation. Our school in Tripura is a "village school" for poor rural children. We aim to empower them by making education accessible and affordable in their own place. 
The school is located in a place called "Love Story Bazar". 
It is about 70 kilometers from Agartala the capital city of Tripura.
We have classes from Nursery to standard V (five).  
We have started from scratch in 2016 but we are extremely happy to share some stories today. 
Below is the summary.
We started with 87 students in 2016
In 2017 we had 110 students
In 2018 we had 135 students
You can find more information on our school by clicking the blue highlighted link above.